SAPIA NATIONAL CONFERENCE 2017
Date: Friday 1 September
Each year we hold our National Conference in a different location in Australasia. In 2017 we return to Queensland, with the venue being the luxurious Intercontinental Sanctuary Cove Resort, Gold Coast. We are pleased to announce that Mapei Australia is sponsoring SAPIA's 2017 National Conference.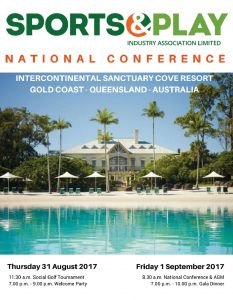 Members and interested parties are welcome to attend.
Details of the venue and program: National Conference 2017 Announcement
SAPIA NATIONAL CONFERENCE PRESENTERS
To view our program and details of our presenters, click here
For further information or to request a delegate booking form, call the SAPIA office on 1800 208 202 (AUSTRALIA) or 0800 208 202 (NEW ZEALAND).
NATIONAL SPORTS CONVENTION 2017
Date: 20-21 JULY 2017

Visit us at Stand 48 in the Expo Hall
The Sports and Play Industry Association is pleased to once again participate in the National Sports Convention. During the 2016 NSC in Sydney, we announced to the industry our rebranding from the Sports Contractors Association to SAPIA. Since that time we have had a significant increase in membership numbers, from individuals to international corporations who share our best practice goals. NSC provides a forum for manufacturers and installers to promote their products and services to end users, ensure they are up to speed with the latest techniques and technological advances from home and abroad and take a look at what their competitors are offering.
For further information, see www.nationalsportsconvention.com.au