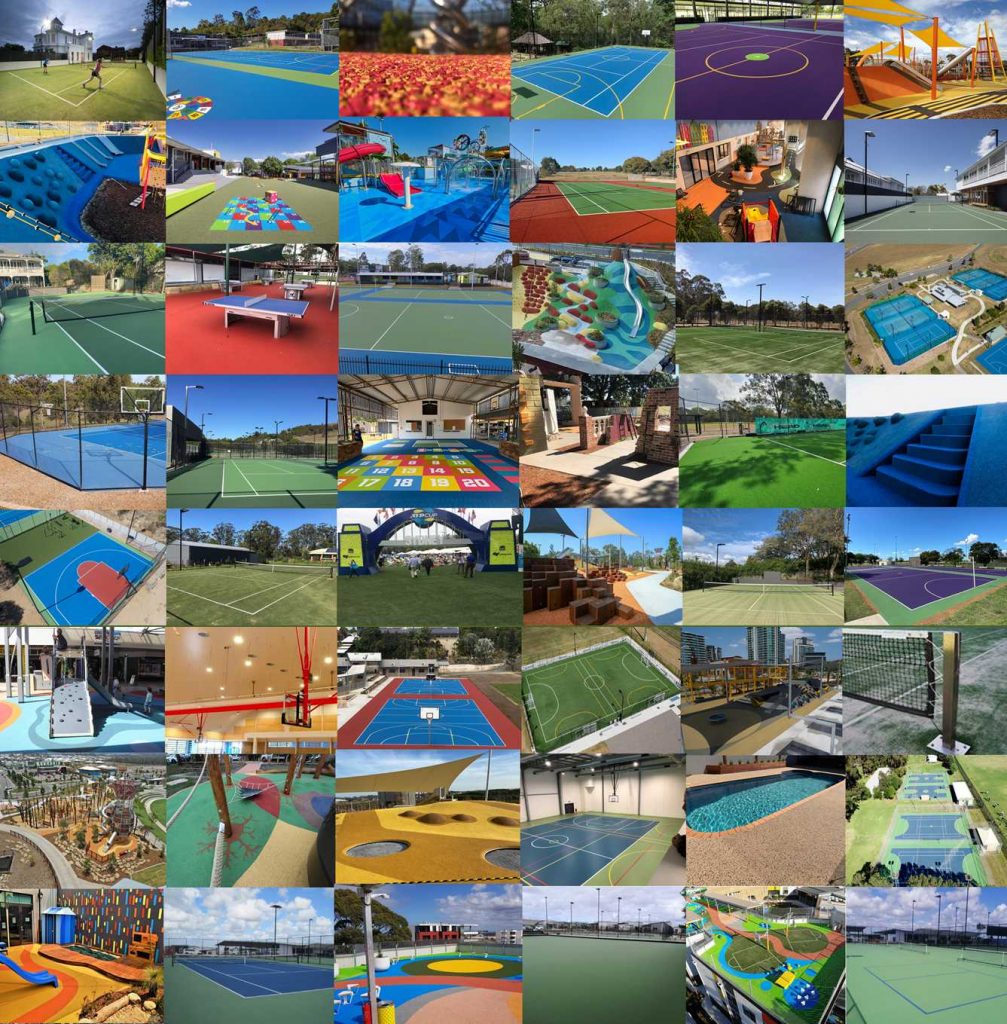 The purpose of SAPIA's Industry Awards Program is to support the association's goal of promoting excellence in sports court, sports field, playground and recreation facility design, construction, maintenance, surfacing and servicing as well as product innovation. The program recognises the work of its members who are participating in achieving this goal, and provides members with the opportunity to celebrate their work.
2020 was the 20th consecutive Industry Awards competition for SAPIA members, and 61 entries were received, an amazing result for such a difficult year. Thank you to all who participated.
The winners of SAPIA's 2020 Industry Awards competition will be announced in January 2021.
In the meantime, we will be posting links to videos of the entries, including in some cases before pics, work in progress and finished project shots.
Kandanga Tennis Club QLD – https://youtu.be/mPCK7MwHUyw
Yan Yean Tennis Club VIC – https://youtu.be/MHVTe0GgBBI WINNER
McGirr Park Miller NSW – https://youtu.be/9O3z4LAHPdQ RUNNER UP
Private Tennis Court Toorak VIC – https://youtu.be/ZAgrotJfZ_o WINNER
Private Tennis Court Middle Ridge QLD – https://youtu.be/okmNSkGMebs  JOINT RUNNER UP
Private Tennis Court East Toowoomba QLD – https://youtu.be/yL3byyLzYjI JOINT RUNNER UP
Samford Tennis Club QLD – https://youtu.be/jOfLKwdDaH4 RUNNER UP
Suncoast Christian College QLD – https://youtu.be/Y3NSpPTbg-o
Underwood Park Netball – https://youtu.be/l1zHBT4K3nE WINNER
Private multisport court Mt Cotton QLD – https://youtu.be/xPFbfTCoxpE
Private tennis court Ascot QLD – https://youtu.be/Op_HHkjWXTs WINNER
Private tennis court Indooroopilly QLD – https://youtu.be/FQP8lXx1CLU
Private multisports court Samford Valley QLD – https://youtu.be/hTw0SWA5X4c RUNNER UP
Perry Park Futsal QLD – https://youtu.be/HDd6IAxlg3A RUNNER UP
Parade College Bundoora VIC – https://youtu.be/RhMUJdB8Zeg WINNER
Browns Plains High School QLD – https://youtu.be/XjdKMS1JCfE RUNNER UP
Redland Bay Tennis Club QLD – https://youtu.be/4zY6nR0yJRY WINNER
Latitude 25 Ninkenbah QLD – https://youtu.be/ieNWfo_X0eo WINNER
Clover Hill State School QLD – https://youtu.be/_OpJwjjnvS0 RUNNER UP
Calvary Christian College QLD – https://youtu.be/3i-kyqogy7A
Blackwater Netball QLD – https://youtu.be/_QK8jkkihDM RUNNER UP
Private multisport court Anstead QLD – https://youtu.be/Azy-cjiL9S4
Valkyrie State School QLD – https://youtu.be/jeBvt3Pr1Bo
Carlingford High School NSW – https://youtu.be/R-iOUJiKn7k
St Clair Recreation Centre SA – https://youtu.be/LgwnTrAJIvY WINNER
Al Noori Muslim School NSW – https://youtu.be/O6ohX4dB0Bk WINNER
Taperoo Reserve SA – https://youtu.be/0YULJV1olB4 WINNER
Sports Equipment Installations QLD, SA – https://youtu.be/Ji71f3KjmWc WINNER
Moncrieff Park ACT – https://youtu.be/93e8-RIY8gU WINNER
Seawind Gardens VIC – https://youtu.be/hJaed5U_ZUA
Taylor Adventure Playground ACT – https://youtu.be/IpFGqs0P_DE WINNER
Edgebrook Reserve VIC – https://youtu.be/Iv6M2ZV4eW8
GESAC CCC VIC – https://youtu.be/1RySdsI3lOE RUNNER UP
Porous Pool Paving VIC – https://youtu.be/S7iaHAZbBx8 RUNNER UP
Thornlands Community Park QLD – https://youtu.be/pREv-rXEI4M
Petrie Mill QLD – https://youtu.be/KaHgE8Qd8G0 EQUAL RUNNER UP
St Clair Recreation Centre Playspace SA – https://youtu.be/V0UnFW45ob0 EQUAL RUNNER UP
Roy Marten Playsapce SA – https://youtu.be/tEa33kC925I
Regency Park Playspace SA – https://youtu.be/aVbDOKLX5pU
Newmarket Randwick Playspace SA – https://youtu.be/9-htFuJkcc0 RUNNER UP
Thread Lane Waterloo CCC NSW – https://youtu.be/_mrfdWMFIMs WINNER
Alexandria Park Community School NSW – https://youtu.be/tDVU2zZj4Ck 3RD PLACE
Our Lady of Angels Catholic School QLD – https://youtu.be/iSkEMSvLmbY
Athletics Stadium Calisthenics Training Facility SA – https://youtu.be/ZHYefPnAr3o WINNER
Linear Park, Mulgoa Sanctuary NSW – https://youtu.be/0D_8Avga4RQ WINNER
Hercules Street Park QLD – https://youtu.be/CY9OaehGxKE
Sugarworld Water Park QLD – https://youtu.be/BDbuny5NqMY RUNNER UP
Ken Rosewall Arena NSW – https://youtu.be/BK88XqWk45c WINNER
Pit Stop Play Space Darwin NT – https://youtu.be/spDx13P6V0g RUNNER UP
Bim'bimba Park Pimpama QLD – https://youtu.be/5-yw4cC5pi4 WINNER