A.S. Lodge (Vic)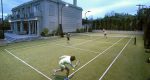 Business Name:
A.S. Lodge (Vic)
Long Business Description:
A.S. Lodge commenced work in synthetic recreational construction in 1979, since this time has gone onto construct over 4,300 tennis courts for municipal councils, schools universities, clubs and discerning domestic clients.
Over the past 38 years A.S. Lodge have a multitude of awards for construction for both private tennis courts and club complexes. A.S. Lodge have the ability to undertake a full design and construct contract where they draw on their vast wealth of knowledge and experience to deliver the full 'turn key' project.
A.S. Lodge have been at the forefront of development within the industry for 38 years combining their membership of the Australian Institution of Engineers and formal training to develop the best synthetic surfaces available including SynClay (synthetic clay), Probounce (shortpile tennis surface), lower slide resistant tennis surfaces.