Court Craft (Aust) Pty. Ltd.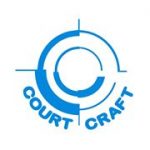 Business Name:
Court Craft (Aust) Pty. Ltd.
Long Business Description:
Court Craft have over 35 years' experience as a sports facility construction company. We specialise in the construction, design and maintenance of sport and recreational facilities plus general structural landscaping and civil construction. Court Craft carries out all aspects of a project from planning, Council submissions, construction of facilities and amenities, lighting systems, landscaping, maintenance etc. Court Craft caters for a variety of clients including Councils, Schools, Sporting Associations, Commercial Clients and Private clients
Court Craft construct facilities for: Basketball, Futsal, Football, Hockey, Lawn Bowls, Netball, Tennis and Volleyball to name a few.
Generally we supply the following services:
Sporting facility construction and maintenance
Landscaping and fencing
Asphalt and concrete services for car parks, pathways, courtyards etc.
Supply and installation of sporting equipment
Plexicushion (the Surface of the Australian Open)
Plexipave
Softall
Synthetic Grass
Aspahlt
Concrete
Loam
Futsal
Football