Dynamic Sports Facilities Australia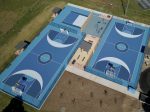 Business Name:
Dynamic Sports Facilities Australia
Long Business Description:
Dynamic Sports Facilities Australia (DSFA) is an Australian owned landscape construction and project management company that builds, upgrades, maintains and repairs sporting facilities in NSW and ACT.
If you are after a tennis, netball, basketball, multi court, or a cricket facility from a provider you can trust look no further than the expert team at DSFA. With more than 1,000 sporting facilities to their name and 40+ years' combined experience across NSW and ACT, DFSA provides for council, residential, schools and clubs. Whatever your sporting facility goals, you can be assured you are in good hands.
Fully licensed, Occupational Health and Safety assured, Quality Management certified under Quality Assurance ISO-9001, Occupational Health & Safety ISO-45001 and fully insured, DFSA's credibility is founded on providing a complete service strategically managed from start to finish.