Otter Fencing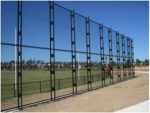 Business Name:
Otter Fencing
Long Business Description:
Established in 1959, Otter Fencing are the professionals, specialising in Chain-link Fabric Fencing and Gates – supply only or supply and installation.
Part of the Otter Group, Otter Fencing are well recognised as a leading supplier and installer of Chain-link Fencing materials, trading under a well-recognised iconic Australian brand name and are also known for their quality and compliance with all relevant Australian Standards, with Ray Otter the current chairman of the Australian Standards committee for Chain-link Fencing.
Chain-link Fabric Fencing, aka: Chain-wire Mesh Fencing, Tennis Court Fencing, Cyclone Fencing, is a versatile and economical fencing material that can be used for a variety of applications and is perfect for sporting applications due to the generous aperture in the diamond shape pattern, which makes viewing easy with limited visual obstruction, while offering protection for spectators.
Chain-link Fabric is available in a variety of finishes, namely Heavy Galvanized (W10Z), Black or Dark Green PVC coated and Black Fusion Bonded with the later having the PVC coating glued to the core wire, rather than standard PVC wire which is simply extruded. Fusion Bonded wire is resistant to cracking and peeling normally caused by constant impact or weather conditions, making Chain-link Fabric made from Fusion Bonded wire perfect for sporting applications.
Otter Fencing's manufacturing and installation business is geared to meet your Chain-link Fencing requirements, covering a wide range of Sports fencing including:
Tennis courts
Multi-purpose Sports Fields
Cricket Net Enclosures
Baseball/Softball Batting Cages
Baseball & Softball High Screen Back Nets
Ovals
Hockey & Soccer Pitches
Otter Fencing also installs Chain-link Fabric, Tubular & Welded Mesh Fencing & Gates to suit a wide variety of Industrial & Commercial applications such as:
Security
Boundary
Parks
Schools
Internal Storage Cages
Safety
Factories
Gate Automation.