Precision Sports Lighting + Electrical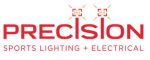 Business Name:
Precision Sports Lighting + Electrical
Long Business Description:
OUR SERVICES
We are experts in the Installation and Maintenance of specialised lighting for sporting fields and public spaces.  We offer complete design, construction and certification packages in accordance with individual customer requirements.  In addition, we provide our customers with certification for every pole and foundation installed by us to give piece of mind that each installation remains safe for many years to come.  Every completed project is audited upon completion to ensure all projects adhere to our strict installation standards.  We also provide certification for every project to verify that the lighting installation conforms with Australian standards.
OUR BACKGROUND
WE ARE PASSIONATE ABOUT SPORTS LIGHTING!
Our team consists of sports lighting experts who have been working and succeeding in the industry for many years. We are committed to delivering service excellence because we take personal pride and care in what we do – this isn't just our job it's our livelihood. We are firm and uncompromising when it comes to hiring staff with strong character, sound technical skills and the right cultural fit with our business. As a result, we have developed an expert team with strong ethics and business based values to ensure the delivery of quality, cutting edge projects. Ask us about our new range of  led sports lighting.
OUR PROJECTS
A Small Snapshot of Recently Completed Projects Includes:
Harrup Park Mackay- Digital Television Standard Lighting (1500 Lux Average)
Kawana Sports Stadium – Design & Installation of LED sports lighting to four sports fields for Sunshine Coast Regional Council.
South Pine Sports Complex- Installation of Sports Lighting for New AFL Complex. (Home of Brisbane Lions AFLW)
Narangba Soccer Club- Installation of LED Sports Lighting for two soccer fields.
Fraser Coast Sports Complex- Installation of LED Sports Lighting to 4 Soccer Fields and 8 Netball Courts