106 Architects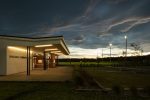 Business Name:
106 Architects
Long Business Description:
Services Offered:
106 Architects is an award-winning community and sport-specialist architecture and design practice dedicated to connecting and strengthening communities across Australia and New Zealand. Led by Olympian and Commonwealth Games Silver Medallist Dion Gosling, the 106 Architects team have all the skills and capability required to help you take your project from concept to final occupation.
At 106 Architects, we live for sports, leisure, and community facilities – having been focused and immersed in fields, courts, tracks, jumps, indoor and outdoor play spaces – sport infrastructure – all our life. We are currently working on a range of quality sports- and education-related community facilities across Australia and New Zealand providing sports-specialist design and technical knowledge.
Our track record and experience covers multiple codes and sports, across a wide range of projects – from park amenities to regional stadia; elite high performance training and competition venues, regional indoor arena, to local, community facilities and sportsfields.
Dion Gosling, as Director of 106 Architects, has an innate understanding of the subtleties and technical requirements of outdoor sports fields and indoor sports halls bringing perspective from the athlete, administrator, coach, management and Board level. Since 1990 when travelling the world as part of the NZ Men's Hockey Team Dion has grown knowledge of global international best practice in order to apply locally.
Through roles with the NZ Olympic Committee and now as Chair of the Oceania Hockey Federation Competitions and Events Committee, Dion is a leader in the holistic assembly of outdoor and indoor sports facilities development. Through the application of Third Place Thinking TM, Dion is providing thought-leadership and change in the way we connect our sports facilities with our communities.
Dion has undertaken masterplanning and feasibility work, business case development, concept and detailed design, delivery and the project management of a range of projects that relate to the Sports and Play Industry sector:
Selected Services and Reference Projects:
Masterplanning
Namatjira Park Masterplan (in collaboration with theCommunityCollective.) – a sports and community masterplan incorporating an existing 12.1HA reserve site and a 634ha wetlands catchment area in Clayton South. The Park provides diversity of opportunities including social, family, sport, recreation, play and environment experiences with a single oval, single tennis court, sporting pavilion, bowls club and bistro, skate park, playground, tennis wall, basketball half court, and dog off-leash park
Colin Maiden Park– a broad masterplan review for tennis, soccer, rugby, netball, cricket, AFL, hockey along with commercial sports sector support services, including the new two-turf artificial hockey development as a multisport shared club facility
New Plymouth Multisport Hub – a 38ha multisport redevelopment over an existing racecourse to include 14 outdoor netball and multiuse courts, artificial soccer/rugby field, artificial hockey turf, 8 outdoor natural grass fields incorporating artificial and natural cricket wickets, cricket training nets, informal play and social zones for events and day-to-day community activities
Nga Puna Wai Sports Hub – a 32ha sports field development including full IAAF-certified athletics track, warm up track and dedicated throws high performance centre, 3 FIH Global Elite hockey turf surfaces, community sports fields, 24 hardcourt tennis courts, NRL-standard rugby league facilities
Indoor Arena and Sports Halls
New Plymouth Multisport Hub – a new 6-court indoor regional facility incorporating capacity for 3,000 seating for international netball and basketball events, hosting and media facilities, as well as local club-level multicode shared amenities as part of the wider sports park development
Matamata Indoor Community Sports Centre – a new 2-court local community development to be located on the Matamata College grounds. The facility serves as a key partnership between school, community and sports users
Fraser Park Sportsville – a new multisport centre located amongst the existing community sportsfields. The facility includes a 600sq.m multiuse indoor activity zone, 6 squash courts, café, gym, offices, meeting and social function rooms. 8 changing rooms service the outdoor sports of rugby, hockey, soccer, cricket and an artificial multiuse 3G turf\
Outdoor Active Zones & Informal Play Areas
Namatjira Park Masterplan (in collaboration with theCommunityCollective.) – a sports and community masterplan incorporating a new skate park, playground, tennis wall, basketball half court, pick-up-play areas, parking and dog off-leash park connected to an existing bowls club and natural wetlands area
'The Boroughs' Basketball Courts – a new 5-court outdoor sports project on sites across Auckland. The project aimed to engage youth with outdoor recreation activity using basketball as the catalyst. The project was a public-private commercial partnership between Auckland Council and SPARK (telecom)\
Learn to Ride Track – a disused area of hardcourt asphalt – the size of two netball courts – was converted into a temporary Learn to Ride adventure course for the local community. A concept for design was generated by the rich history and cultural characteristics of the local community – the track created simply by the use of road paint
Artificial Turf Sports Fields
A number of artificial sportsfields have been project managed and delivered by 106 Architects – Colin Maiden Park two-turf hockey field development; Metro Park artificial hockey field; Hamilton Boys' High School artificial tennis, rugby/football, hockey field development project; Bill McKinlay Park artificial soccer field; Mt Roskill Grammar School artificial hockey turf and natural fields development; Auckland Grammar School artificial hockey and rugby/soccer field development