Kelmatt Industries Pty Ltd t/a Kelmatt Australia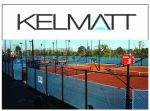 Business Name:
Kelmatt Industries Pty Ltd t/a Kelmatt Australia
Long Business Description:
Kelmatt Australia have been manufacturing Tennis Court Windscreens and Sightscreens since 1983 and are considered market leaders in this field with many major installations throughout Australia to our credit, including Melbourne Park National Tennis Centre, Sydney International Tennis Centre Homebush, Kooyong Lawn Tennis Club Melbourne and the West Australian Tennis Centre at Burswood WA.
Products
Kelmatt offers a varied range of products including Tennis Court Windscreens which greatly reduce the wind on court for better playing conditions. Privacy Screens used mainly around domestic courts for increased privacy and Sightscreens for better ball sighting. Other products include Pole Padding for increased safety on Tennis and Netball Courts, Kindergartens and Football Grounds.