Mapei Australia Pty Ltd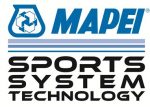 Business Name:
Mapei Australia Pty Ltd
Long Business Description:
Mapei is a world leader in the development, manufacture and supply of 'Sports Flooring' products/ systems. As a consequence, Mapei recently released into the Australian market the innovative 'Mapecoat TNS System' specifically designed for installing and/or repairing indoor and outdoor Tennis and Multipurpose courts.
Mapei manufacture over 1,500 products worldwide which includes adhesives, paints and finishes for the installation of all wall and floor coverings.
The 'Sports Systems' range of products are already a household name when it comes to the installation of indoor/outdoor netball and basketball courts, multi-purpose areas, gyms, swimming pools, athletic tracks and synthetic turf.