Play n Sports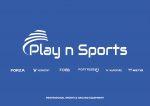 Business Name:
Play n Sports
Long Business Description:
Play n Sports is an Australian based company that manufactures and imports sporting equipment. We are the official Australian partner of the UK based "Net World Sports". Our product range covers virtually every sport, from football, baseball, cricket, tennis and golf through to netball, lacrosse, archery and ice hockey. Our ethos is simple; to provide niche products to the mass market as quickly and as efficiently as possible.
Play n Sports also have a number of brands that are not only recognised here in Australia but also all around the world. A number of these brands and products are also used in major stadiums around the world, major champions and by professional sporting clubs and athletes. These brands included Forza – World Best Football (soocer) Goals and Training Equipment.
Vermont for all your Tennis and Badimnton gear. Fortress for batting and cricket cages.
Raipdfire for all your sporting rebound training equipment.
Our products are helping you score better goals, swing better shots and hit better balls. But just like you, we're always pushing ourselves to stay at the top of our game. Our goal is to focus on providing the very best in sporting equipment and this is why our team is relentless and dedicated to offering the best in sporting goods and equipment, we understand that an athlete not only needs the right coach but also the equipment. We will continue to design, and search the world for the ever best in sporting equipment.