All Grass Sports Surfaces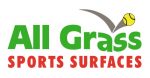 Business Name:
All Grass Sports Surfaces
Long Business Description:
All Grass Sports Surfaces has been at the forefront of tennis court and sports field construction and maintenance for over twenty years. In that time, AGSS has built over 1,000 tennis courts and sports facilities, both domestic and commercial, throughout Sydney and country NSW and the ACT. As well as building tennis courts, we build and surface all types of indoor and outdoor sports courts, as well as install fencing and floodlighting. We are a 'one stop shop', providing design, project management, construction and ongoing maintenance services to ensure your court gives you years of playing pleasure.